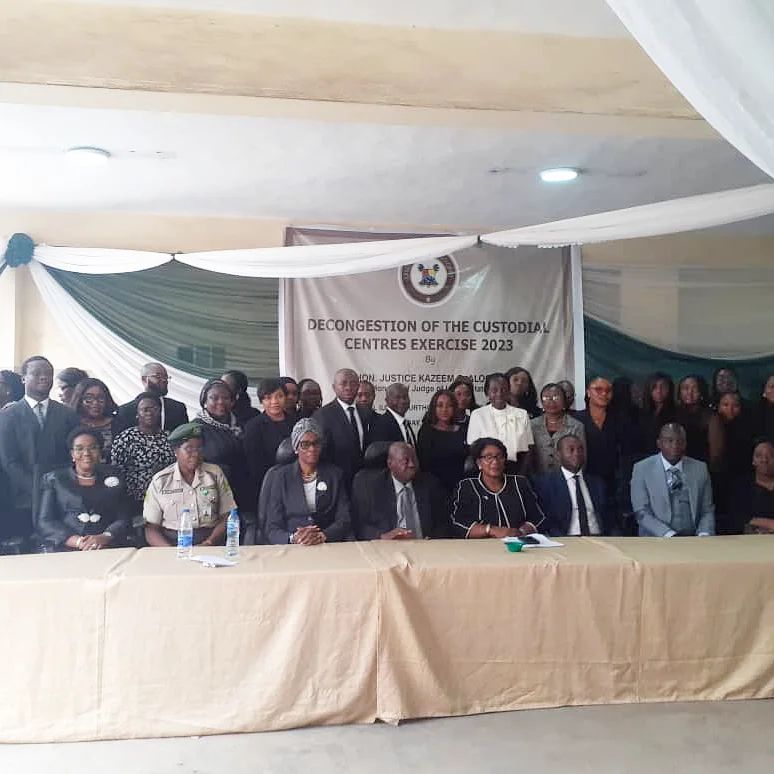 The Lagos State Prison Decongestion Exercise (Decongestion of Custodial Centres Exercise) 2023 was held on the 13th of July 2023.
The exercise was presided by the Hon Chief Judge in an open house court session at the Samuel Ilorin Court House, Ogba, Ikeja.
Reja Initiative was privileged to be a part of this exercise were 30 inmates, including 4 persons who were minors from the Borstal Training Institution, Adigbe, Abeokuta, Ogun State, were released.
The Hon. Chief Judge released these persons pursuant to powers conferred on him under Section 1(1) of the Criminal Justice Release from Custody Special Provision Act.24 Feb 2022 and provisions of Administration of Criminal Justice Law 2019 of Lagos State.
He further admonished them to sin no more and to become law-abiding citizens. The Deputy Controller, Nigerian Correctional Service, Lagos Command, Comfort Obiosio, who represented the Controller of the NCS, Lagos, Mr Ben Freedman, disclosed that almost 9,000 inmates were in the three correctional centres in the state. She urged the Chief Judge to use his good offices to see that privileges were given to some remorseful inmates in order to decongest the prisons .
The Lagos State Commissioner of Police, Idowu Owohunwa, represented by the Deputy Commissioner for police, Waheed Ayilara, said that the Nigeria Police would continue to ensure due process in handling suspects. correctional centres.
Justice Alogba praised the Justice Adenike Coker-led committee for their careful investigation of the case of those released.
Reja Initiative is committed to working with these inmates to ensure their successful reintegration into the society.