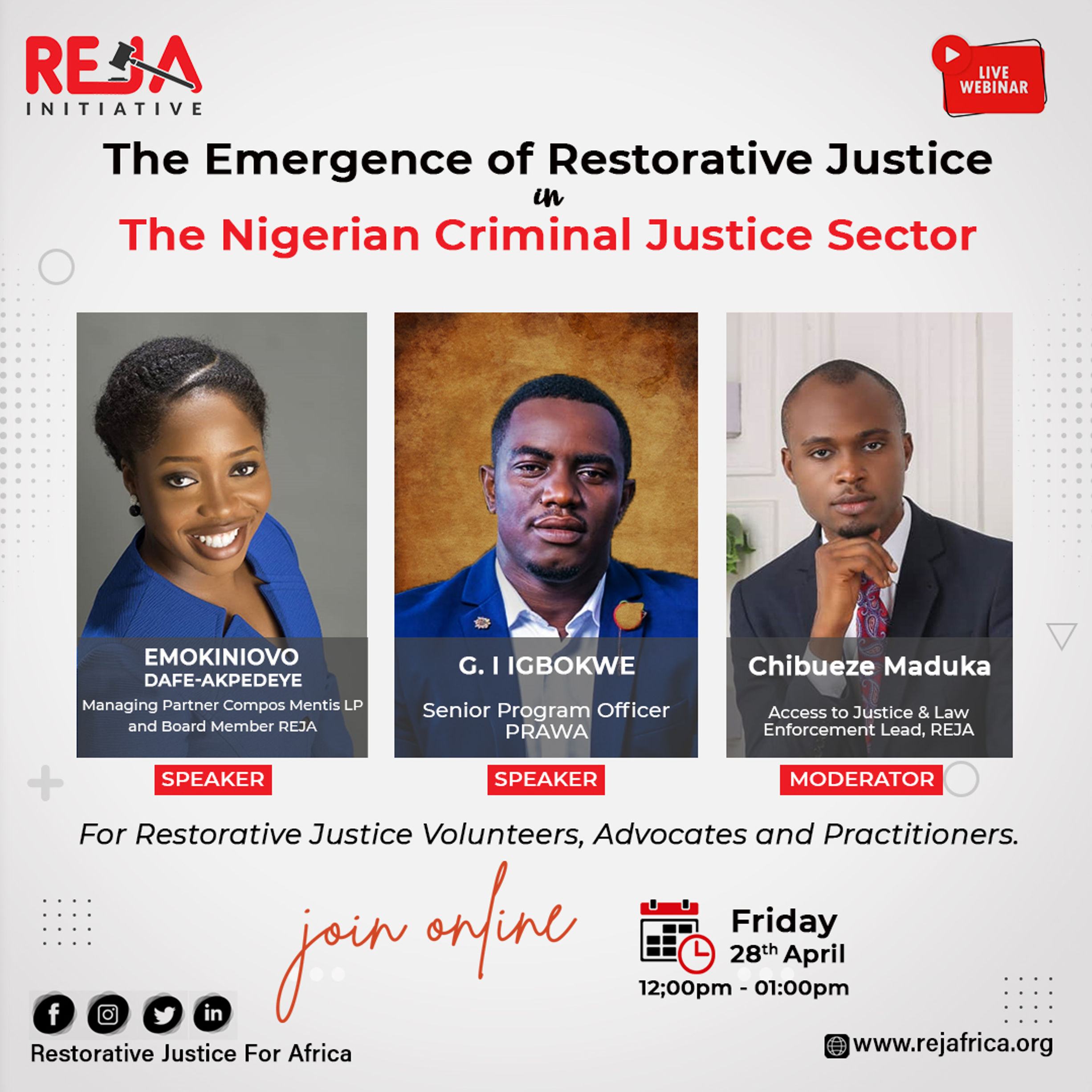 REJA Initiative had its first quarter webinar on the emergence of restorative justice in the Nigerian criminal justice system on the 28th of April 2023. The webinar featured two (2) keynote speakers; Emokiniovo Dafe-Akpedeye, managing partner Compos Mentis and board member REJA and G.I Igbokwe, team lead Social Development Unit PRAWA. The speakers gave an history of restorative justice in Nigeria, linking it to the traditional justice system used in the precolonial era and advocated for its use as a complement to the already existing retributive justice system practiced in Nigeria
G.I Igbokwe spoke on the history of restorative justice in contemporary Nigeria
Emokiniovo Dafe-Akpedeye spoke on the need for restorative justice in the Nigerian Criminal justice system.
Click here to watch the full video of the webinar
Find below our speakers profile
Meet our first speaker Ifunanya Gift Igbokwe.
Ifunanya is a passionate social justice advocate and Team Lead of the Social Development Unit at PRAWA, an NGO committed to promoting reforms within the criminal justice sector in Nigeria and beyond.
With a wealth of experience in successful advocacy campaigns, Ifunanya is the brain behind PRAWA's Data and Strategy quarterly publication, which monitors and analyzes data sets generated by relevant stakeholders in Nigeria's security and justice sector.
He is also the sole author of several publications on topics such as effective offender rehabilitation, violence prevention, and weak institutions in Nigeria.
With an MBA from the University of Lagos and currently pursuing an MSc in International Affairs and Diplomacy at Ahmadu Bello University, Ifunanya leads PRAWA's Lagos office in implementing multiple social development and criminal justice projects.
Meet our 2nd speaker, Emokiniovo Dafe-Akpedeye
Emokiniovo is a distinguished legal professional and Managing Partner of Compos Mentis Legal Practitioners.
With exceptional legal skills in litigation, soliciting, and arbitration, she holds a law degree from Oxford and a first-class honours degree in Economics and Management from Bristol.
Emokiniovo is a young Fellow of the Chartered Institute of Arbitrators (CIArb), UK, and holds the highest academic qualification granted by the CIArb – a Diploma in International Commercial Arbitration. She is also a qualified solicitor in England and Wales and holds a Master's in Law with an Entertainment Law Certificate from the University of Southern California, USA. Emokiniovo's drive for excellence is evident as a Member of the Institute of Directors.